A new method of complimentary liposuction treatment, called Ultrasonic Assisted Liposuction, or UAL, is now being used in conjunction with tumescent liposuction Techniques. UAL works by converting ultrasonic energy into heat, literally melting the fat cells, allowing the remains to be suctioned away. This method reduces the amount of trauma to the tissue, since less force is needed by the surgeon, leaving fibrous tissue and vascular structures intact. There is minimal blood loss, less bruising, and better retraction of tissue.

Meet Our Doctors
Get to know the ACPS team of professionals.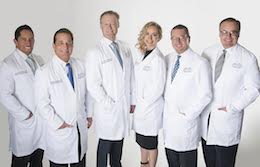 » Dr. Patronella
» Dr. Mentz
» Dr. Newall
» Dr. Fortes
» Dr. Morales
» Dr. Hustak
Body Procedures Pricing Range*
*Pricing varies among our doctors. Please be aware that prices listed below are estimates only. Call us at 713.799.9999 for a specific doctors price estimates for procedures. A customized price quote can only be given to you during your consultation with your surgeon.
Body Lift - $13,000 and Up
Thigh Lift - $8,000 and Up
Arm Lift - $6,000 and Up
Liposuction - $4,900 and Up
Liposuction (Women) - $4,900 and Up
Tummy Tuck - $8,800 and Up
Buttock Enhancement (with fat graft) - $7,000 and Up
Liposuction for Men - $5,500 & up
This technique is promising, but there is a danger of burning the skin. 
The physicians at the Aesthetic Center for Plastic Surgery
recommend a combination of UAL and traditional liposuction techniques to achieve the desired results.
A consultation with one of our board certified surgeons will determine the techniques best for you. And remember, it is advisable that you choose a board certified plastic surgeon who is affiliated with accredited hospitals and surgery centers, to perform your liposuction procedure.
Contact MyBeautifulBody.com or call 713-799-9999 for your complimentary consultation today!