When sleeveless blouses and dresses are worn, shapely, toned arms are an attractive focal point. The combination of exercise and diet often is sufficient to give the arms a more sculpted appearance.  However those who have bulky or flabby arms as a result of stubborn fat, weight loss or aging often wear clothing to hide their arms in long sleeves, which can be both limiting and uncomfortable during exercise and when the weather is warm and lighter clothing styles and/or activewear is a more practical choice.
While liposuction is sometimes all that is needed to restore a slimmer look to the arms, sagging arm skin typically requires removal through arm lift surgery (brachioplasty) in order to restore a firmer, slimmer appearance to the arms.

Meet Our Doctors
Get to know the ACPS team of professionals.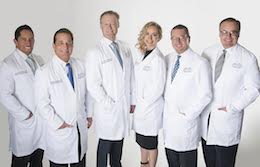 » Dr. Patronella
» Dr. Mentz
» Dr. Newall
» Dr. Fortes
» Dr. Morales
» Dr. Hustak
Body Procedures Pricing Range*
*Pricing varies among our doctors. Please be aware that prices listed below are estimates only. Call us at 713.799.9999 for a specific doctors price estimates for procedures. A customized price quote can only be given to you during your consultation with your surgeon.
Body Lift - $13,000 and Up
Thigh Lift - $8,000 and Up
Arm Lift - $6,000 and Up
Liposuction - $4,900 and Up
Liposuction (Women) - $4,900 and Up
Tummy Tuck - $8,800 and Up
Buttock Enhancement (with fat graft) - $7,000 and Up
Liposuction for Men - $5,500 & up
ARM LIPOSUCTION PROCEDURE
In an arm liposuction procedure, small incisions are made in the armpit and the elbow. A thin hollow tube called a cannula is used to suctions fat from the selected areas, allowing the surgeon to sculpt the desired contour. As a result of this technique, skin quality is unchanged. Some swelling and bruising may occur, but will diminish in about 3 to 5 weeks.
During a consultation, your ACPS surgeon will listen to your goals and evaluate your physical concerns in order to provide you with his recommendation.
To schedule your consultation with one of our ACPS surgeons, call our office at 713-799.9999.