The knees, calves and ankles are highly visible and important to us aesthetically. Hips and thighs can frequently be camouflaged by dresses, but only pants can hide the calves and ankles. Attractive legs are characterized by a gradual tapering from strong thighs to delicate ankles. The basic shape of this part of the leg is determined by the muscles and bone, making this an extremely difficult area to change.

Meet Our Doctors
Get to know the ACPS team of professionals.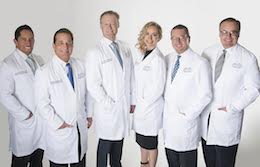 » Dr. Patronella
» Dr. Mentz
» Dr. Newall
» Dr. Fortes
» Dr. Morales
» Dr. Hustak
However, the latest 
leg and ankle liposuction
 techniques follow the procedures for removal of unwanted fat from the body. A small incision is made in the skin just large enough to accommodate a small hollow tube called a cannula. The cannula suctions the fat from selected areas of the body to create the desired contour. 
Removal of fat in ankles, calves and knees
 requires tiny incisions on each side of the Achilles tendon and knee. Fortunately the 
Houston surgeons at The Aesthetic Center for Plastic Surgery 
have performed thousands of 
liposuction procedures for knees, thighs and calves
 using the latest techniques.
Body Procedures Pricing Range*
*Pricing varies among our doctors. Please be aware that prices listed below are estimates only. Call us at 713.799.9999 for a specific doctors price estimates for procedures. A customized price quote can only be given to you during your consultation with your surgeon.
Body Lift - $13,000 and Up
Thigh Lift - $8,000 and Up
Arm Lift - $6,000 and Up
Liposuction - $4,900 and Up
Liposuction (Women) - $4,900 and Up
Tummy Tuck - $8,800 and Up
Buttock Enhancement (with fat graft) - $7,000 and Up
Liposuction for Men - $5,500 & up
These specific liposuction procedures can be performed as outpatient under general anesthesia. After the surgery, patients are fitted with medical compression stockings and must wear these for two weeks. You can expect a recovery time and return to work in 5-7 days.
Let us answer your questions about Liposuction for the calves, knees, or ankle areas, or call our office at 713-799-9999